Here you can view some past projects of hard scape work such as patio fireplaces, trellis and other exterior 3-D landscape designs. I work with landscapers to bring the plans to life with all of the details.
Patio designs have become more detailed with everything that customers want in outdoor living spaces. To see the layout in 2-D compared to the 3-D model makes a big difference to understand all of the areas of what is to be built. This can also save money when nothing has to be changed due to lack of fully understanding the design.
Trellises are a great way to add shade plus depth.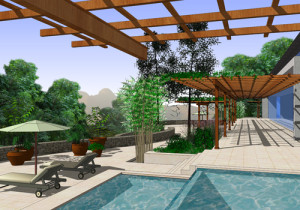 Everything for a great party with a table area and fireplaces, plus a built in bar with all the bells and whistles and of course the grill.
Pizza oven with a grill, sink and refrigerator for drinks.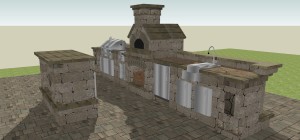 Mount Sinai Aurora – Temkin Garden 2010